Mica Nitschke

Tags:

Budget, dinner, food, grass fed, grass fed beef, grassfed beef, Keto, Mariposa Ranch, paleo, Recipes, steak, summer meals, the whole jan, veggies, Whole30
Hanger Steak is also called Butcher's Steak or Hanging Tender. It's not something you will easily find in the meat department unless you happen to live in France!  Hanger Steak is from the diaphragm of the cow, and some say that the unique texture and developed flavor make it a great cut to try. 
---
Mica Nitschke

Tags:

dinner, family, food, grass fed, grass fed beef, grassfed beef, Keto, Mariposa Ranch, mom life, paleo, Recipes, sustainable, the whole jan, Whole30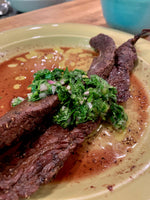 Argentinean Chimichurri is a delightful tart-herby sauce that makes meat sing! The depth of flavor of this Mariposa Ranch Skirt Steak is perfect for this sauce.
---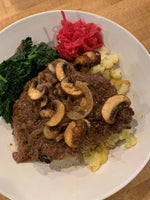 Tenderized Cube Steaks from Mariposa Meats are full of flavor, tender, and perfect every time Whole 30, Paleo, Keto, and pure deliciousness approved.