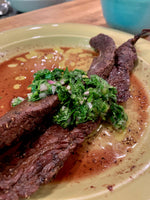 Argentinean Chimichurri is a delightful tart-herby sauce that makes meat sing! The depth of flavor of this Mariposa Ranch Skirt Steak is perfect for this sauce. The steak cooks quickly over hot coals to medium-rare. Slice it across the grain and pour on the pour on sauce- So delicious!
The recipe serves approximately 4 people. Prep time ~30 minutes; Cook time ~ 5 minutes; Rest time ~15 minutes⁠
Ingredients:
2 pounds (4 packages) Mariposa Ranch Skirt Steak.

Kosher Salt & Black Pepper.
Sauce Ingredients:
3/4 cup Red Wine Vinegar.

1 ¼ tsp. Kosher Salt.

5 cloves Garlic, minced.

1 ¼ Shallot, chopped.

1 ¼ Jalapeno, chopped.

2 ½ cups Cilantro, chopped

1 ¼ cup flat-leaf Parsley, chopped.

½ cup Oregano, chopped.

3/4 cup extra virgin Olive Oil
Preparation Instructions:⁠
Season Steak lightly with Salt.

Let sit at room temperature for 30 minutes. 

Dry steak well, season again with Salt & Pepper.

Cook over hot coals until meat is lightly charred - medium-rare, 2 minutes each side. 

Remove from heat, cover with foil allow the meat to rest for 15 minutes. 
For the Chimichurri Sauce:
In a bowl, add red wine vinegar, kosher salt, garlic, shallot, and jalapeño. 

Let sit for 10 minutes. 

Add chopped cilantro, parsley, oregano, and olive oil. 
To serve - Slice steak across the grain and serve with chimichurri sauce.