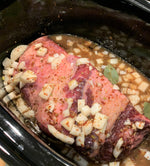 Barbacoa Beef is a delicious medley of spices and chipotle peppers from Mexico. Cooking low & slow is the trick that delivers a juicy, fall-apart tender meal. Using a slow cooker allows time to infuse all of these fabulous flavors easily and won't make your kitchen any hotter than it already it!  
---
Mica Nitschke

Tags:

dinner, family, food, grass fed, grass fed beef, grassfed beef, Keto, Mariposa Ranch, mom life, paleo, Recipes, sustainable, the whole jan, Whole30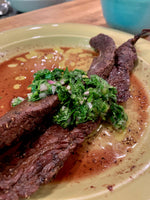 Argentinean Chimichurri is a delightful tart-herby sauce that makes meat sing! The depth of flavor of this Mariposa Ranch Skirt Steak is perfect for this sauce.