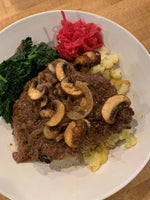 Tenderized Cube Steaks from Mariposa Meats are full of flavor, tender, and perfect every time Whole 30, Paleo, Keto, and pure deliciousness approved.
Prep time - Less than 30-minutes, start to plate.  Serves 4 Recipe from Jan Lindquist (@thewholejan)
Steak:
4

Mariposa Ranch Grass-fed Cube Steaks

(2 packages)

1/3 cup Arrowroot Flour

1/2 tsp. Pepper

1 tsp. Kosher Salt

1/2 tsp. Onion Powder

1/2 tsp. Garlic Powder

Pinch of Red pepper flakes [optional]
Mushroom & Onion Gravy:
1 Tbsp. Avocado or Olive Oil plus 1 Tbsp. Butter or Ghee

8 oz. Sliced Mushrooms

1 medium Onion, sliced

1 and 1/2 cups Beef Broth

1 Tbsp. Stoneground, Dijon, or brown Mustard.

1 tsp. Arrowroot Flour

1 Tbs. Water 
PREPARATION:
Combine seasonings with arrowroot in a shallow plate.
Coat cube steaks on both sides with mixture, shaking off any excess flour.
Heat a cast-iron skillet to medium-high.
Add 2 - 3 Tbsp. avocado or olive oil to pan.
Cook steaks 3-4 minutes per side. Remove to a plate & cover with foil. 
Add remaining 1 Tbsp. Oil plus 1 Tbsp. Butter or Ghee.
Add sliced onions. Saute 3-4 minutes.
Add sliced mushrooms, beef broth, and mustard to the pan - simmer for 3 minutes.
Mix arrowroot with water to make a slurry, add to the pan, and simmer for 1 additional minute.
Return cube steaks to the pan. Cover and cook on low for 5 minutes.