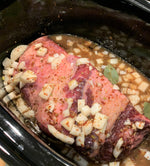 Barbacoa Beef is a delicious medley of spices and chipotle peppers from Mexico. Cooking low & slow is the trick that delivers a juicy, fall-apart tender meal. Using a slow cooker allows time to infuse all of these fabulous flavors easily.  
Barbacoa Beef Brisket 
From the kitchen of @thewholejan
Prep Time ~ 10 minutes. Cook Time ~ 10-12 hours. Serves ~ 4
Ingredients:
2-3 pound (1-2)

Mariposa Ranch Grass-Fed Brisket Roast

1 onion, sliced

2 chipotles in adobo sauce, chopped

3 cloves garlic, sliced

1 lime, juiced

1 tsp. ground cumin

1 tsp. Mexican dried oregano

2 tsp. kosher salt

1/2 tsp. coarse ground pepper

1/2 cup beef stock
Preparation Instructions:
Add all ingredients to the bottom of a slow cooker. 

Add brisket and gently stir together. 

Cook on low 10-12 hours until meat is tender and can shred easily with a fork. 

Remove brisket and shred. 

Pour liquid from the slow cooker into a bowl and allow fat to rise to the surface, skim fat. 

Place the brisket back in the slow cooker along with the strained juice. This is delicious served over roasted cauliflower, stuffed into tortillas, or on a salad "Chipotle"-style.