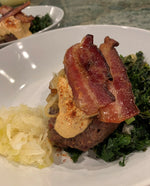 Anyone can make a hamburger - but if you want to create a burger that is really amazing and perfect for a 4th of July Barbecue, you'll want to follow these rules!
Rules for Amazing Burgers:
As the main ingredient in a burger is meat, it is important to choose your meat well.

Mariposa Ranch 100% grass-fed grass-finished ground beef

is is the perfect choice for an amazing burger.  We suggest our 80/20 ground beef [80%lean, 20%fat] for juicy, flavorful burgers.

We recommend hand-made patties, but if you don't have the time to make patties, or you prefer not to get your hands "meaty", Mariposa Ranch offers

pre-made hamburger patties

.  All you have to do is throw them on the grill!  You don't even have to defrost them first!  
After choosing your meat:
Form your patties gently, we suggest you don't put anything in your meat because you might work your beef too much.

Season with Salt & Pepper right before you put them on the grill.

Press your finger into the patty making a well in the middle and put an ice cube in the impression. ** Why the ice cubes? Well...they melt into the meat as it cooks, infusing the burgers with moisture! **

Grill it HOT. The idea is to create a crispy crust and beautiful brown exterior.
Follow these rules and you're guaranteed a truly amazing burger. Enjoy!
Another delicious recipe brought to you from the kitchen of @thewholejan