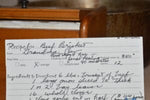 Everyone has a memory tied to a sound, a smell, or a taste.  My grandma raised her family in the 50s and 60s.  Cooking, however, wasn't her strong suit.  But when it came to the holidays, she always made Beef Brisket.
This was her "fancy" dish and as the day progressed the house would smell more and more of the sauce she cooked the brisket in!  My grandma stopped cooking brisket many years ago and we moved on to our own traditions of holiday food, which didn't include beef brisket.  But the other night when I pulled my recipe box off the shelf in lieu of my Pinterest app, I knew exactly what recipe I was going to make, Grandma Bev's Beef Brisket.  
Now, Grandma would have been a little disappointed in me, because I didn't warm up a serving platter, place the meat on it and garnish it.  This was very important in her day.  Instead, I served it out of the baking dish (gasp!!), but with 3 kids, a busy husband, and spending most of the day putting the garden in as a family, there wasn't sufficient time or reason to plate it and make more dishes!!  
I'm pretty sure Grandma is looking down and smiling at the fact that I still use her recipe and she may be a tad embarrassed that I'm sharing it with everyone here on our website!  She was always worried about things not being good enough for others, but with that in mind, I can assure you, this is a delicious recipe, especially when made with our tender, grass-fed beef brisket.  As our daughter said at dinner, "more meat, more meat!!!"  ...enough said.  Enjoy friends!
 ----------------------------------------------------------------------------------------------------------
Beef Brisket from Grandma Bev
Prep/first cooking ~ 4-hours.  Final heating ~ 40-minutes. Serves ~ 12
Ingredients:
6 lb brisket of beef (apprx 3 Mariposa Ranch Grass-Fed Beef Briskets)

1 large onion sliced ½-inch thick

1 or 2 bay leaves

16 whole cloves (or approximately 1&¼ teaspoons ground cloves)

1 clove garlic cut in half (Grandma used the "powder form", so approximately ⅛ tsp)

2 Tbsp. brown sugar

2 Tbsp. dry mustard

2 cups ketchup

¼ cup Worcestershire sauce
Preparation Instructions:
Place the meat into a large saucepan (I use my dutch oven pan, as it is my largest!).

Cover with water, add the next 4 ingredients.  

Cover and simmer (4 hours until tender).  

Cool in liquid – drain and trim off excess fat.  

Refrigerate boiled meat for several hours or overnight.

Cut meat across the grain into very thin slices.  

Place slices and stand on edge in a large, shallow baking dish.  

Pour a mixture of remaining ingredients over meat.

Heat in a 350-degree oven for 40-minutes, basking occasionally with sauce.
To Serve:
Arrange overlapping slices on a heated serving platter and garnish.  

(I don't bother to heat the platter usually!)
**Can be made ahead
**Can be frozen