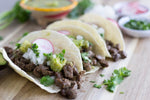 Everyone loves tacos, right?  At least most of the people I know like tacos.  We have tacos at least once a week in our household, they're quick, easy, delicious, and can be fairly healthy, depending on how you make them.  Here's a recipe I like to use in our household on Taco Tuesdays!  I hope you enjoy it. 
(this serves approximately 4 people and takes around 30 minutes from start to finish)⁠
What you need:
8 or 16 (if you like to double) corn tortillas ⁠

2 teaspoons of olive oil (we like to use olive oil from our friends

@burroughs.family.farms

)⁠

1/2 onion, diced⁠

1 8 oz can tomato sauce⁠

1 tablespoon chili powder⁠

1 tablespoon cumin powder⁠

2 teaspoons garlic powder⁠

1 teaspoon of crushed red pepper (or to your taste)⁠

1/2 teaspoon dried oregano⁠

1/2 teaspoon pepper⁠

Sea salt, to taste ⁠
How to cook:⁠
I prefer to use our large cast-iron skillet. Heat it over medium heat, add the olive oil, then the diced onion. ⁠

Cook onions for 5-7 minutes until they start to look translucent. ⁠

Add the ground beef and break it up into smaller pieces as it cooks for a few minutes.

Mix in the tomato sauce and spices. ⁠

 Let the mixture cook on medium or medium-low for 8-10 minutes. ⁠

When the meat has cooked through, set it aside and cover it with a lid to keep the mixture warm. ⁠

Prepare the sides and toppings you want with your meat⁠

Assemble your tacos, eat, enjoy, and repeat as many times as needed! ⁠