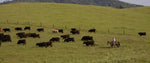 Did this title catch your eye, does it sound interesting and maybe scandalous?!  If so, read on.  While I don't actually lead a double life in the scintillating way you might have imagined when reading my title, I do in fact feel like I lead a double life. As you may know, my husband, lovingly referred to as the "Head Cowboy" in most posts, and myself run a grass fed beef business.  Part of my role in the company is managing our blog and social media sites such as Instagram and Pinterest; Facebook is mostly all the Head Cowboy.
But I'm going to be honest here…CONFESSION TIME…I have a really hard time doing this.  I will always present an honest picture of our life & I want to be interesting and real at the same time, but I feel that these things don't always converge.
See, we do raise 100% grass fed beef. Our cattle are happy and on beautiful green grass their entire life; they spend the spring and summer in Gilroy, CA and they spend fall and winter in Catheys Valley and Hornitos, CA. But we don't live with our cattle.  As lovely as that would be, it's almost impossible.  We lease all of our pasture, but it doesn't come with living quarters, unless we were ready to pop a tent and really "live off the land"!  So instead, we live in Turlock, CA, a town of about 75,000 people; we technically live in the "country" but we are between two large dairies (and let's just say "factory farming" isn't too far off), we have truck traffic day and night, buzzers moving the cows forward most of the time, and it's less than the idyllic picture of country life most people have in mind!  And trust me; you don't want pictures and blogs about this!  ;)  So here's where I get stuck.  What do I blog about to you, what do I post about to you?
If I had to guess, I'd say you want to see our cows, their pasture, country life; but truth be told, I rarely get out to our ranches.  The Head Cowboy does, for sure, but even he gets mired down with the challenges of running our own business.  We have two amazing employees, thank God for that!  Jaime is our delivery driver and some of you may have met him as he delivered meat to you; Andy is our cowboy and he does the day-to-day ranch work.
So if I'm not at the ranch, what do I do?  My typical day is probably pretty similar to yours!  We have three kids, Henry, 11 and in 6th grade, Elle, 8 and in 3rd grade, and Charlotte, 2, and at home full time with me.  Our kids participate in a unique school program where they are in class 3.5 days and at home 1.5 days.  It's great; we get more time together this way and are able to take advantage of Fridays at home.  Both of the older kids are active in 4-H, sports and church activities.  We were always a one-activity per kid family, but somehow, the older they get, the harder this is to stick with!
I myself take advantage of not "working" full-time and do a lot of volunteer work.  I am on the PTA at the kids' school in the capacity of Treasurer, I teach a Junior High Bible study through Community Bible Study (CBS, a great group for anyone looking for a good Bible study), and I teach one yoga class a week.  My husband and I are both active in the local CrossFit community and we're both leaders for the local 4-H group.
Phew…just typing all that gives me a clue why it's hard to find time to get a family dinner with the 5 of us! Anyhooo…I type all of this to let you know that I love you, our customers, our readers, those who follow us on social media and I apologize if it feels that I don't take enough time to acknowledge this and get more posts and blogs out there for you to enjoy.  It's not that I don't want to…it's just that my boring, busy day-to-day life might not be what you'd expect from the wife of a rancher, who doesn't live on the ranch and it doesn't always provide material for posts or blogs!  …this is my Double Life!